Bingo er kanskje et av verdens mest kjente spill. Spillet går ut på at man kjøper et bingokort med tall og bokstaver. Når spillet starter, trekkes kuler opp av en trommel, og tallene på kulene leses opp. Spillerne markerer tallene på kortet sitt etter hvert som tallene trekkes. I en vanlig bingohall bruker man en bingopenn til dette, men på nettet skjer markeringen automatisk. Da trenger man ikke å følge med så nøye.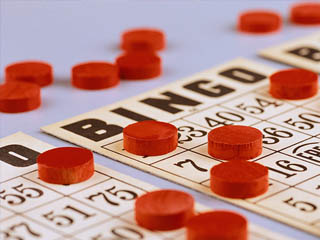 Man skal fylle ut enten hele rekker, eller få bestemte mønster for å vinne. Hvis man får dette mønsteret, eller fyller rekken med tall, roper man ordet Bingo. I en bingohall kommer en person for å sjekke kortet ditt, og dersom tallene er riktig utfylt, vinner du en premie. På nettet skjer dette automatisk.
Antall baller
Bingo finnes i flere varianter. De mest kjente variantene er 75-ball og 90-ball. Navnet viser hvor mange baller som er med i trekningen. I Europa bruker man som regel 90 baller, mens i USA er det vanlig med bare 75 baller. Reglene er ikke de samme for de to variantene. Hvis man spiller i en bingohall, får man instruksjoner fra verten, eller man kan lese på et ark. I bingohallene er det vanlig at spillet varieres litt, men hovedregelen er at man skal markere en hel rekke, enten vannrett, loddrett eller diagonalt.
I 90-ball bingo, spilles det ofte på 3 nivå. Man skal først merke av en vannrett rekke, deretter to rekker, eller 10 tall diagonalt. Til slutt skal man markere 15 tall. Premiene vokser for hvert nivå.
Bingospill på nettet
I dag foregår mye av bingospillingen på internett. Det finnes fortsatt lokale bingoarrangement rundt om i landet, men på nettet er det mulig å spille bingo hver eneste dag, og dermed trenger ikke spillerne å vente på nye arrangement. De kan spille når det passer for dem. Bingo på nettet er mest utbredt blant litt yngre spillere. De aller eldste foretrekker fortsatt de klassiske bingotreffene.
Nettbasert bingo gjør det også mulig å prøve mer ukjente varianter av spillet. Spill på nettet går mye raskere. Mange er redd for å miste oversikten, men det er mye enklere å følge med på nettet. Man kan til og med spille mange brett samtidig uten at ting går i surr. Tallene markeres automatisk, selv om du ikke får med deg hvilke tall som blir trukket. Du trenger altså ikke å bekymre deg for å gå glipp av et tall. Du kan også be datamaskinen markere hvilket kort som er nærmest gevinst.
Tallene trekkes tilfeldig på nettet. Vinnermulighetene er like store der som i vanlig bingo. Sjekk at kasinoet er pålitelig og godkjent av et uavhengig revisorselskap før du begynner å spille med ekte penger. Du kan spille gratisspill også, men da vinner du ingen penger.
Chat

Bingorom på nettet tilbyr ofte chat, slik at du kan snakke med andre spillere. Det er ikke alle som liker å snakke. Noen foretrekker å konsentrere seg om spillet. Men dersom man liker å chatte, er det mulig.