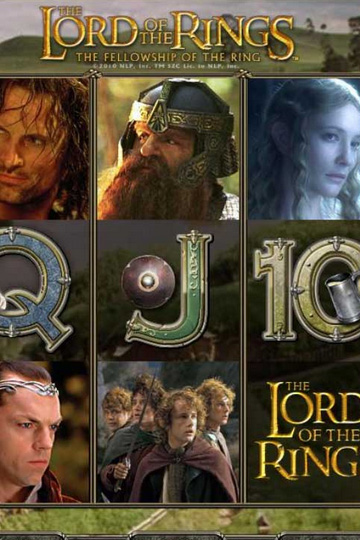 Lord of the Rings: The Fellowship of the Ring er en spilleautomat som er laget av Microgaming. De har samarbeidet med Warner Bros for å bruke karakterene fra filmen i denne spilleautomaten. De har også fått lov til å bruke filmklipp, blant annet når man vinner, eller det dukker opp utvidede Wilds. Filmklippene erstatter vanlige animasjoner. De er til og med i HD-kvalitet.
Flere vinnerkombinasjoner
Spilleautomaten har 5 hjul, men ikke vanlige innsatslinjer. Det er derimot 243 vinnerkombinasjoner i spillet. Vanligvis vinner man bare på kombinasjoner fra venstre mot høyre, men dersom man får en spreder, i form av Herskerringen, vinner man også på kombinasjoner fra høyre mot venstre.
Spillets myntverdier er 1, 2 og 5 cent. Antallet mynter man kan satse per spinn er minimum 1 og maksimum 20. Dermed har du stor kontroll over innsatsbeløpet, og velger den innsatsen som passer spillbudsjettet ditt best. Det er som nevnt ingen innsatslinjer, så det trenger du ikke å tenke på. Hvis du vil satse 20 mynter med den verdien du har valgt, trykker du bare Max Bet. Hvis du har spilt på automaten en stund, og ønsker mer utfordringer, kan du trykke på Expert knappen. Der finner du flere valgmuligheter, blant annet autospinn.
Toppgevinsten er på 90 000 mynter, men den kan bare vinnes når man spiller gratisspinn. Minimum tre Herskerringer utløser gratisspinn. Da får du 15 gratisspinn, som kan gjenutløses mens du spiller. Et annet spesialinnslag under gratisspinn er at et tilfeldig hjul blir til et Wildhjul før hvert spinn. Det øker vinnermulighetene.
Ringene kan også multiplisere gevinstene. Hvor mye de multipliseres, avhenger av hvor mange ringer du får i en kombinasjon. Tre ringer betyr dobbel gevinst, fire ringer gir tidobbel gevinst, fem ringer hundredobler gevinstene dine.
Wild-symboler
Spillets Wild-symboler erstatter alle symboler bortsett fra Herskerringen (sprederen). Det er flere morsomme spesialinnslag i spillet. Wild-symbolet Saurons Øye er et utvidende Wild-symbol som dekker hele hjulet. Dermed kan det virkelig gi deg store gevinster.
I denne automaten lagres framskrittene dine. En del av poenget er å samle mil, altså at hovedpersonene dine går en viss avstand mens du spiller. Alt etter hvor langt de har gått, åpner det seg nye bonusinnslag. Disse bonusene er åtte biter fra historien, og de låses opp i samme rekkefølge som de dukker opp i historien.
Et annet morsomt innslag er Power Spins, og ikke minst muligheten til å lagre Powers Spins. Hvert Power Spin utløser spesialfunksjonene som gjør det lettere å vinne, og du bestemmer selv når du vil bruke dem. De ulike Power Spinnene heter Frodo Wilds, Random Reels Wild, Win Multiplier, Scatter Spin og Bonus Booster. Som navnene tilsier, virker de på forskjellige måter, men alle gir ekstra fordeler.
Symboler av Gollum eller Alvepiler gir deg tilfeldige Wilds. Alt i alt er det mange spesialinnslag og bonuser i dette spillet, og sammen med filminnslagene, gir det en veldig god spillopplevelse. Den er svært vellaget og underholdende, og du kan spille denne automaten på norske nettkasinoer som bruker programvare fra Microgaming.