Tomb Raider er et suksess-spill som ble laget til Play Station. Det finnes seks spill i serien, alle handler om den modige, kvinnelige arkeologen Lara Croft. Hun reiser verden rundt på spennende eventyr. Disse spillene ble så populære at det ble bestemt å lage filmer av dem. Det er sjelden det går bra når man lager filmer av TV-spill, men Tomb Raider ble like populær også som film, og gjorde Lara Croft enda mer kjent.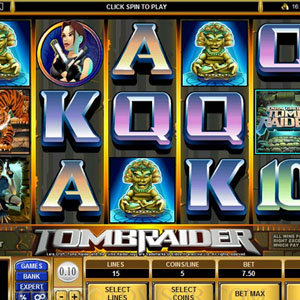 Microgaming tok også ideen fra TV-spillet da de lagde Tomb Raider spilleautomat. De har senere laget en oppfølger som heter Secret of the Sword. Den er mer moderne og avansert enn originalen, men den første spilleautomaten er fortsatt tilgjengelig hos mange nettkasinoer, så det er mulig å prøve begge.
Den Lara du møter i dette spillet, ligner mest på personen i TV-spillet. De øvrige symbolene i spillet er hentet fra den første filmen. Årsaken til at Lara ikke ligner på skuespilleren i filmen, kan være at det er vanskelig å få til en avtale med skuespillere om bruk av bildene deres. Det spiller forresten ingen rolle hvordan Lara ser ut i spilleautomaten. Det er andre ting som teller.
De 5 hjulene i automaten har til sammen 15 innsatslinjer. Du kan satse 1 til 5 mynter på hver linje, og velge en myntverdi fra 0,05 til 0,50 dollar. Du velger altså selv om det skal være en billig eller en litt dyrere automat. Jo flere innsatslinjer du aktiverer, desto lettere er det å vinne. Hvis du har et lavt spillbudsjett, bør du derfor velge den laveste myntverdien og aktivere alle linjene. Du trenger bare å satse en mynt per linje for å aktivere den.
Olike symboler
På hjulene dukker det opp statuetter, Wild-symboler og symboler av Lara. Symbolet som viser Lara i helfigur gir deg den største utbetalingen. Fem av dem på samme linje, betyr at du vinner spillets jackpot på 7500 mynter. Denne jackpoten kan til og med bli enda større, for når man spiller med gratisspinn, tredobles premiebeløpene.
Lara dukker også opp som et annet symbol. Dette er en spreder. Hvis det er spredere på skjermen når du vinner, ganges gevinsten med antall spredere. Tre spredere betyr at du får 10 gratisspinn, og muligheten til å vinne gevinster med tredobbel verdi.
Bonusspill
Bonusspillet går ut på å velge mellom gudestatuer. Det ligger mynter under dem, og når du plukker opp statuene, finner du gevinsten din. Bonusspillet er forholdsvis enkelt, men gevinstene er like velkomne for det.
Oppfølgerspillet Tomb Raider Secret of the Sword er mer avansert og moderne på alle måter. Spillutviklingen går din gang, og det dukker stadig opp ny teknologi. Men nettkasinoene pleier å la de fleste gamle spillene ligge. De nye spillene kommer i tillegg. Derfor blir det flere og flere spilleautomater å velge blant. Fordelen med det er at utvalget er stort, og at du kan finne gamle perler sammen med ultramoderne 3D automater. Tomb Raider er et spill som er vel verdt å prøve, også for nye spillere.