Mega Fortune fra Net Entertainment er en videoautomat som feirer luksuslivets gleder. Grafikken er god, og spillet er svært populært. Automaten har 5 hjul med 25 innsatslinjer. Du velger antall aktive linjer selv, men hvis du skal spille om den progressive jackpoten i spillet, må du spille med maksimumsinnsatsen.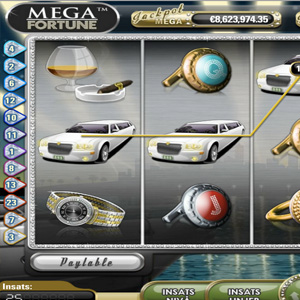 Man kan satse inntil fire mynter per linje, totalt 100 mynter. Man velger selv hvilken myntverdi man spiller med. Myntverdiene er fra 0,01 til 0,50 €. Myntene man eventuelt vinner, har samme myntverdi som myntene man spiller med. Det betyr at gevinsten må omregnes etter myntverdi for å finne ut hvor mye den er verdt i penger. Den vanlige jackpoten i spillet er 40 000 mynter, men det er tre store jackpoter man også kan spille om.
Symboler fra rikmannslivet
Symbolene på hjulene er hentet fra rikmannslivet. Limousinen er mest verdt av symbolene. Med fem av dem, vinner du 1000 mynter. Spillets spredersymbol er en champagneflaske med to glass. Med minst to av dem, multipliseres gevinstene. Du får alltid gratisspinn når du får minst to spredere, men det er også andre fordeler med dem. To flasker gir deg 2 ganger innsatsen. Med tre flasker får du 3 ganger innsatsen, fire flasker gir 10 ganger innsatsen, og hvis du er heldig og får fem flasker, får du 100 ganger innsatsen. Med minst 2 champagneflasker under gratisspinn, gjenutløser du gratisspinnene.
Tre forskjellige bonuser
Man kan spille om tre forskjellige bonuser i bonusrunden. De kalles Rapid, Major og Mega. Mega er den store, progressive jackpoten. Hvilken jackpot du kan spille om, avhenger av hvor godt du lykkes i bonusrunden. Først må du få tre like symboler på rad, fra venstre mot høyre. Da blir du sendt videre til Lucky Wheel, et slags dartblinkhjul. Målet er å lande på pilene. De tar deg videre til neste sirkel. Hvis du kommer til den andre sirkelen, kan du vinne en Rapid Jackpot. Hvis du havner i neste sirkel, kan du vinne Major Jackpot. Og hvis du kommer helt til midten av blinken, kan du vinne selve Mega Jackpoten. Den gjennomsnittlige utbetalingen for Mega Jackpot er hver 84 dag. Men dette er gjennomsnittet. Det er ingen fastsatte dager eller tidspunkt når den deles ut. Det er helt tilfeldig, og kan skje når som helst. Dette er årsaken til at progressive jackpoter er så spennende. Man vet aldri når de deles ut, eller hvor store de blir.
Wild-symboler
Motorbåten er spillets Wild-symbol. Disse symbolene kan erstatte andre symboler i en ellers komplett vinnerrekke. De erstatter ikke bonussymboler eller spredere. Hvis båten er en del av en vinnerkombinasjon, vil den også multiplisere gevinsten.
Spillet har selvsagt også lavere premiebeløp man kan vinne. Det er heller ikke nødvendig å spille om den progressive jackpoten. Men hvis du har lyst til å spille om den, må du spille med Max Bet. Mega Fortune tilbys hos kasinoer som benytter programvare fra Net Entertainment. Du kan lese mer om automaten på kasinoenes hjemmesider, eller ved å trykke på en knapp på automaten. Der finner du også spillets utbetalingstabell, med en komplett oversikt over alle vinnerrekkene. Du kan også følge den progressive jackpoten.