Blackjack eller Tjueen er elsket av spillere over hele verden. Selv om dette er et gammelt spill, har det ikke tapt noe av sjarmen sin gjennom årene. Når folk tenker på kasinospill, er blackjack ofte et av de første spillene de tenker på. Dette spillet kan også spilles på nettet, både med en datamaskin som giver, og i såkalte livekasino, der et menneske deler ut kortene. Livekasino gir deg en ekte kasinostemning uansett hvor du er.
Hvis du ikke kan spillet, bør du lese reglene først, og deretter spille gratisspill med lekepenger. Gratisspill betyr at du ikke kan vinne ekte penger, men du taper heller ingen penger. Du kan konsentrere deg om å lære spillet, uten å bekymre deg for penger. Bruk gratisspill til å teste strategier, for strategi spiller faktisk en rolle i dette spillet. Du må vite når det lønner seg å trekke kort, og når du bør stanse.
Slik spiller du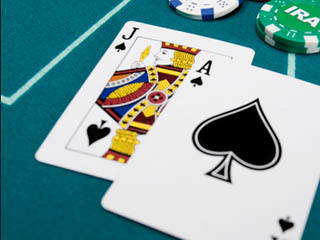 I blackjack spiller du mot huset, Det kan sitte mange spillere ved samme bord, men det er giveren du skal slå, ikke de andre spillerne. Først deler giveren ut to kort til hver spiller. Alle kortene beholder sin egen verdi, bortsett fra bildekort (konge, dame, knekt). De teller som 10. Essene teller enten som 11 eller 1. Essets verdi er ikke noe du velger selv. Hvilken verdi esset har, avhenger av de andre kortene dine. Hvis du har et ess og en tier/et bildekort, har du tjueen, som er en vinnerhånd. Hvis du har to høye kort allerede, og trekker et ess, vil esset telle som 1, slik at du totalt sett ikke går over tjueen. Essets verdi er alltid den verdien som er best for deg.
Alle starter med to kort. Målet i spillet er å få en samlet kortverdi som ligger nærmest mulig tjueen, uten at man går over tjueen. Hvis de to første kortene er et ess og et kort med verdien 10, har du allerede vunnet. Men hvis de to første kortene er verdt mindre enn tjueen, kan du trekke flere kort. Om du bør trekke flere kort, avhenger av risikoen. Hvis du allerede har to kort som er verdt 20 eller 19, er det svært risikabelt å trekke flere kort, for du har stor sjanse for å gå over tjueen på neste kort. Har du en lav samlet kortverdi, må du trekke for å ha vinnermuligheter.
Strategi
Strategien i spillet går ut på å vite når man bør trekke flere kort, og når man bør stanse. Det finnes mange nettsider som kan hjelpe deg med odds og tips til dette. Jo nærmere tjueen kortenes totalverdi er, desto større risiko er forbundet med å trekke. Jo flere kort du må trekke for å komme til tjueen, desto lavere blir premien din. Hvis du får en vinnerhånd med de to første kortene, får du størst gevinst.
For å vinne, må du komme nærmere tjueen enn giveren, uten å gå over. Giveren må trekke kort til han eller hun passerer sytten. Hvis giveren går over tjueen, vinner du.