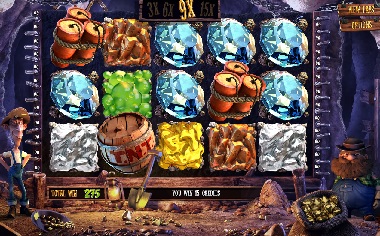 Handlingen foregår et sted i nordvest-California en gang på midten av 1800-tallet under the Big Goldrush. To stakkars brødre kalt Kleb and Cletus graver og graver og hakker og hakker dagen lang for å imponere deres store kjærlighet Daisy som også er gullgruvearbeider. Du kjenner dem kanskje fra den første versjonen som het Gold Diggin. De har ikke endret seg et grann, er fortsatt like dumme og dyrker fortsatt sin lidenskap med å grave etter gull.
Mens Gold Diggin hadde 30 gevinstlinjer, click-me-funksjon og en bonusrunde, har More Gold Diggin en mer konservativ stil med 25 gevinstlinjer og 5 hjul. Spillets høyeste gevinst er 2.330.000 kreditter, tilsvarende en real slump med penger.
Grafikken var eksepsjonell allerede i Gold Diggin. Oppfølgeren er ikke dårligere i så henseende, tvert i mot. More Gold Diggin topper skalaen med cinematiske 3D-animasjoner med et virkelighetsnært utseende. Handlingen er fortsatt fra en dyp gullgruve hvor Jeb og Cletus står på hver sin side av hjulet og holder utkikk etter de store skattene.
Hver gang du får tre eller flere matchende symboler vil symbolene eksplodere og nye faller på plass. For å gjøre det enda mer spennende har Betsoft Gaming innført eksploderende symboler som multipliserer gevinsten opp til x5.
Double Up funksjonen er også ganske interessant. Den vakre gullgraveren Daisy holder frem noen kort for deg hvor du blindt skal plukke ett. Er dette kortet større enn hennes vil gevinsten din dobles.
More Gold Diggin er brukervennlig også når det gjelder innsatsen. Myntenes verdi kan variere fra 0,02 til 1, og du kan satse opp til 5 mynter per linje. Selv med maksimum satsning er innsatsen overkommelig for de fleste spillere. Her finnes en egen knapp for å satse maksimum. Dette gjør satsingen veldig enkel å gjennomføre.
Du har også en auto play funksjon som er veldig grei hvis du har tenkt til å spille en stund. Da slipper du å trykke for hvert spin, maskinen gjør det for deg og du sparer dødtid mellom spinnene.
Spillet er veldig oversiktlig med intuitive knapper. Du har hele tiden oversikt over hvor mye du har vunnet, hvor mye du har å gå på og selvfølgelig en mulighet for å regulere satsene du spiller for.
Gopher er det fete hamsteret som dukker opp i skjermbildet av og til, men som egentlig ikke har noen direkte innflytelse i spillet. Han er bare et artig innslag med usedvanlig bra grafikk. Over diamant-, sølv-, olje- og gull-symbolet finner du spillets Wild-symbol som er en TNT-tønne. Får du tre av disse aktiveres en gratis spin bonus. Her er det virkelig store summer å hente da bonusen gir mye høyere multiplikasjon. Den kan faktisk gå helt opp til x15, noe den ofte gjør.
More Gold Diggin er et fabelaktig spill fra Betsoft Gaming. Her har de overgått seg selv i oppfinnsomhet, morsomme funksjoner, realistiske animasjoner og fantastisk HD 3D grafikk. Eksplosjonene er godt gjennomførte spesialeffekter som gjør spillet spennende og ikke minst økonomisk interessant. Spillet skiller seg definitivt ut fra andre slotmaskiner, noe Betsoft Gaming er kjent for.