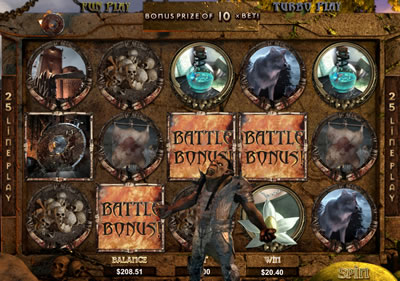 Nytt av sommeren er Orc vs. Elf, uhyre mot alv, som er en eventyr slotmaskin fra Realtime Gaming. Spillet byr på en fantastisk 3D grafikk som er typisk for denne spilleverandøren. Settingen i Osc vs Elf matcher ikke helt med lanseringstidspunktet da spillet foregår om vinteren med snø og is, men dette har selvfølgelig ingenting med verken spillkvalitet eller spillopplevelse å gjøre. Dette er ytterligere et godt spill fra denne geniale spilleverandøren. Settingen er litt mørk og nesten middelalder-aktig med bruntoner, grått og svart som gjennomgående farger. Hovedrolleinnehaverne i dette spillet er to mytiske menneskeskikkelser. Du kan velge mellom å være det fryktelige uhyret eller den snille alven. Valget er ditt, og det vil også avgjøre fremgangen i spillet.
Uhyret og alven er selveste Wild-symbolene. Disse erstatter alle andre symboler på hjulene, bortsett fra Scatter-symbolene. Uhyret lander kun på første hjul, mens alven dukker kun opp på det siste hjulet. Avhengig av spillmodusen du velger vil du kunne velge flere funksjoner etter å ha fått tre eller flere skjold-symboler i et spinn. Får du tre Battle Bonus symboler, begynner blodbadet for alvor. Det er ingen tapere eller vinnere i denne modusen, heller ingen gevinster å hente. Dette er et spennende og artig innslag i spillet som bidrar til økt engasjement hos spilleren.
Begge rollefigurene (uhyret og alven) har sine særskilte oppgaver å utføre i spillet. De vil prøve å ta deg med på hver sin vei. Mens uhyre-funksjonen vil lede deg til Orcholme fortet, vil alve-funksjonen prøve å lokke deg med til Citadel of Elveros. Hver gang funksjonen aktiveres får du valget å takke ja eller fortsette på din egen vei i egen regi. Hver av de to rollefigurene har syv funksjoner. Hver gang du takker nei til en funksjon, blir figurene sterkere.
Slotmaskinen har 5 hjul og 25 gevinstlinjer. Du kan satse alt fra 0.01 kreditter til 1 kreditt. Også her er det en stor jackpot å hente. Dette er en ikke-progressiv jackpot, men allikevel er det en god slump penger å hente her.
Ellers finnes funksjoner som Auto Play som setter fart på sakene. I denne funksjonen lar du spinnene gå og gå automatisk til du selv setter en stopper. Fordelen er at spillet går raskere og at du slipper å trykke for hvert spinn. En grei funksjon dersom du har tenkt å spille en stund.
For deg som liker blandingen av eventyr og slotmaskin, er Orc vs Elf et spennende alternativ, spesielt om du også liker mytiske figurer og en setting hentet fra middelalderens litt dystre omgivelser. Du trenger ikke å være en erfaren spiller for å kunne nyte godt av denne slotmaskinen. Den er som de fleste andre slotmaskiner, bare bygget inn i et artig eventyr med eksepsjonell 3D grafikk. Denne kombinasjonen blir brukt av de fleste spillprodusenter i dag, og den ene slår den andre i eksepsjonelt god grafikk og animasjoner. Dette hever spillopplevelsen, likeså animasjonene som er spennende innslag i spillets gang