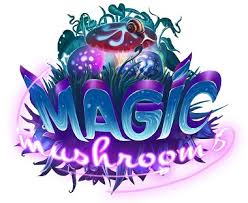 Om man noen gang har vært i en skog midt på den mørkeste natten vil man fort kjenne seg igjen i dette spillet. Det er en ganske spesiell opplevelse, og en opplevelse som rett og slett er uforglemmelig. Absolutt alt som kunne se helt vanlig ut i løpet av dagen, snur seg om på natten og blir en del av en magisk verden hvor man egentlig kun kan stole på sine sanser.
Merkelige lyder, små glimt av månelyset som skinner gjennom de tykke bladene og grenene på trærne, uforklarlige skygger og den merkelige følelsen av at det er noen som ser på. Det er i sånne situasjoner, midt på natten i en skog at til og med de modigste menneskene ender med å føle seg usikre og litt redde. Denne videosloten lar spillerne oppleve noe sånt, for de som vil ta den av denne midtsommernatt drømmen kan man bare gjøre seg klar for dette spillet, nemlig Magic Mushrooms.
Spillets oppsett, innsatser og symboler
Videosloten Magic Mushrooms er en helt ny videoslot som spillutviklerne hos Yggdrasil Gaming står bak. Sloten er satt sammen på en ganske standard måte da den har fått fem hjul og 40 spillelinjer, men oppsettet til hjulene er alt annet enn standard. De er satt inn i et diamantformet vindu hvor det varierer hvor mange symboler som synes i de ulike hjulene. Her kan det være både tre, fire og fem symboler per hjul. Et ganske uvanlig oppsett, men den sørger bare for at opplevelsen av det mystiske og fantasifulle blir enda bedre.
Design og lydbilde
Hjulene har selvfølgelig blitt plassert foran en bakgrunn som viser en mørk skog midt på natten, symbolene som har blitt designet for spillet passer også helt perfekt. Blant symbolene som kan sees på hjulene er det fargerike sopp, morsomme men likevel litt merkelige frosker, fugler og snegler samt insekter som er blitt plassert på fargerike stener. Alle spillets symboler skinner og beveger på seg når de er en del av en gevinstgivende kombinasjon, noe som er utrolig vakkert. Når det kommer til musikken i spillet kan sloten by på en flott blanding av naturlige lyder som får tankene til å gå til harmonien i naturen.
Spesialsymboler og gratisspinn i Magic Mushrooms
Det aller første som vil overraske de fleste spillerne som prøver Magic Mushrooms er mengden med wildsymboler. Spillet har nemlig ikke bare en type wild, den har hele tre stykker! En av dem, som er en lilla sopp kan erstatte alle andre symboler på hjul ett og fem. Den andre som er en blå sopp en wild multiplikator, når denne dukker opp på hjulene to og fire vil den aktivere en multiplikator på mellom 2x og oppover til 10x. Den siste av de tre er en rød sopp, dersom dette symbolet dukker opp på det tredje hjulet vil den spre seg og endre opp til fire andre symboler til wilds.
Spillets gratisspinn symbol er i form av en snegle, når to eller flere av dette symbolet dukker opp på hjulene vil spilleren motta 2, 10, 20 eller opptil 75 gratisspinn. I løpet av denne gratisspinn-funksjonen vil spillerne kunne benytte seg av et større antall wilds og gratisspinn.