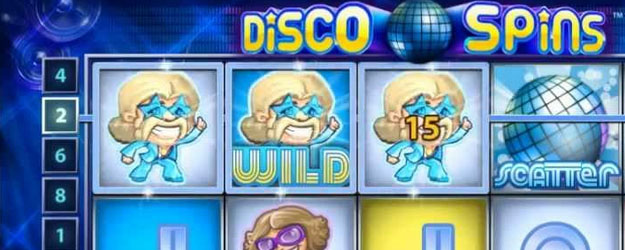 Diskoen er tilbake for fullt i denne spilleautomaten fra Net Entertainment, og det er ikke bare musikken som er underholdende. Her kan man føle stemningen fra syttitallet og samtidig vinne fine premier. De to ulike gratisspinnvariantene er en ekstra morsom bonus.
Myntverdier
Start med å velge myntverdien du vil spille med. Du har sju myntverdier å velge blant. Den minste verdien er verdt 0,01 Euro, og den høyeste verdien er 1 euro. Velg deretter antall mynter per rad. Det er til sammen 20 innsatslinjer du kan spille på, og du kan satse mellom 1 og 10 mynter på hver, altså fra 0,20 til 200 Euro. Det store spriket mellom minsteinnsats og maksimumsinnsats, gjør automaten egnet for alle spillebudsjett.
Symbolene på de 5 hjulene er diskodansere. De er plassert på gulvfliser som skifter farge. For hvert spinn endres fargen på flisene. Dersom flisen og danseren får samme farge, endres danseren til en Wild, som erstatter alt unntatt spredere. Med flaks, kan man få hele åtte slike Wilds.
Gratisspinnfunksjonen
Tre diskokuler utløser gratisspinnfunksjonen, og her dukker spillets morsomste innslag opp. Du kan velge mellom to ulike typer gratisspinn, enten 15 vanlige spinn eller 10 Discospinn. Det er et par viktige forskjeller mellom dem. Vanlige gratisspinn spilles med alle symboler. Gevinstene tredobles dersom du vinner. Ettersom man får 15 vanlige gratisspinn, og premiene tredobles, er det lett å tro at det lønner seg å velge vanlige gratisspinn. Man får jo bare 10 Discospinn, og med 15 spinn er det naturligvis større mulighet for å gjenutløse gratisspinn.
Men Discospinnene har andre fordeler. Halvparten av symbolene blir fjernet, og du sitter bare igjen med danserne, Wild-symboler og spredere. Ettersom man bare spiller med halvparten av symbolene, er det selvsagt flere vinnermuligheter. Begge typene gratisspinn kan gjenutløses. To nye spredere betyr 3 nye gratisspinn, og med fire spredere får man enten 10 eller 15 nye gratisspinn, avhengig av hvilken type gratisspinn man har valgt.
Med unntak av de to ulike gratisspinnene, er det få ekstrainnslag. Dette er en automat man raskt lærer seg å bruke. Toppgevinsten er 1000 ganger innsatsen, for fem vakre damer. Det er ikke mulig å velge antall innsatslinjer i spillet, bare myntverdi og antall mynter per linje. Alle de tjue linjene er alltid aktivert.
Utbetalingsprosenten er høy.
Mange spilleautomater fra Net Entertainment har en høy utbetalingsprosent. Selv om Disco Spins er en forholdsvis enkel spilleautomat, uten masse spesialinnslag og ekstrafunksjoner, er den både underholdende og morsom. Man kan prøve automaten som gratisspill, og før man satser ekte penger, bør man lese spillets utbetalingstabell. Den finner man enten på kasinoets hjemmeside, eller på selve automaten. Utbetalingstabellen viser hvilke kombinasjoner som gir gevinst, og hvor stor gevinsten er for de ulike kombinasjonene. Husk at alle utbetalinger vises i antall mynter. Dette er ikke pengepremien man vinner. Myntene man vinner har samme verdi som myntene man spiller med. For å finne ut hva premien blir i penger, må man gange antallet mynter med myntverdien.
Prøv Disco Slots eller andre spilleautomater fra svenske Net Entertainment.