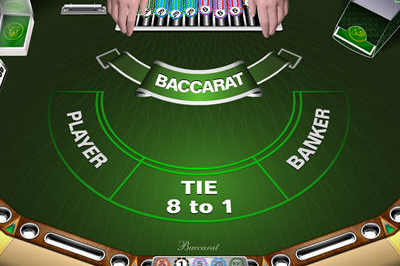 Baccarat er et populært spill i landbaserte kasinoer, og kan selvsagt også spilles på nettet. Hos mange kasinoer kan man til og med spille Baccarat live, noe som gir en mer autentisk kasinofølelse. Dette spillet er svært gammelt. Baccarat ble spilt i Frankrike midt på 1800-tallet, men det antas at spillet stammer fra Italia, og kanskje har vært spilt helt siden 1400-tallet.
I tobords baccarat spiller en giver eller bankør mot to spillere samtidig. Chemin de fer er en annen variant av spillet, der flere spillere sitter rundt et bord, og bytter på å være giver eller bankør. Da spiller bankøren mot bare en motspiller, men de andre spillerne rundt bordet kan satse på spillets utkomme. I USA spiller man varianten Punto Banco.
Spillet
Baccarat spilles med inntil 8 kortstokker, som alle er blandet med hverandre. Spillerne og bankøren får tildelt to kort hver, og kan trekke et tredje kort etter spesielle regler. Målet i spillet er å få en samlet kortverdi så nært opptil ni som mulig. Tiere og bildekort har ingen verdi i dette spillet. Alle andre kort har sin egen tallverdi. Hvis summen av kortene er over ti, strykes det første tallet i summen. (Hvis totalverdien er 11, blir verdien bare 1, ettersom det første tallet strykes).
Først får spillerne og bankøren to kort hver. Hvis en av hendene har verdien 8 eller 9, vinner denne hånden. Hvis ingen oppnår 8 eller 9, kan flere kort trekkes. Spilleren kan bare trekke enda et kort dersom han eller hun har en kortverdi på 0-5. Er verdien 6 eller 7, får ikke spilleren flere kort.
Bankørens valg avhenger av bankørens håndverdi og hvilket tredjekort spilleren får.
Hvis bankørens håndverdi er under 2, trekker bankøren alltid et nytt kort, uansett hvilket kort spilleren trekker.

Hvis bankørens håndverdi er 3, trekker bankøren enda et kort, så sant spilleren ikke trekker en åtter.

Hvis bankørens håndverdi er 4, trekker bankøren enda et kort dersom spilleren trekker 2, 3, 4, 5, 6 eller 7.

Hvis bankørens håndverdi er 5, trekker bankøren enda et kort hvis spilleren trekker 4, 5, 6 eller 7.

Hvis bankørens håndverdi er 6, trekker bankøren enda et kort dersom spilleren trekker 6 eller 7.

Hvis bankørens håndverdi er 7, blir bankøren stående.
Etter at eventuelle tredjekort er trukket, annonserer bankøren hvem som har vunnet. Den hånden som er nærmest ni, vinner. Hvis håndverdien til spilleren er den samme som bankørens håndverdi, blir det uavgjort.
Store penger
I landbaserte kasinoer er det vanlig med store innsatser i Baccarat. Derfor spilles dette spillet ofte i et eget rom, adskilt fra resten av kasinoet. Det gir ekstra sikkerhet og privatsfære. Minsteinnsatsene er ofte høye, og mange spillere satser svært store summer. Det er ikke uvanlig med innsatser på 10 000 dollar eller mer.
I nettkasinoer skilles ofte storspillerne fra småspillere. De som ønsker å spille Baccarat med store innsatser, spiller i egne rom. Man må også ha en spesiell invitasjon fra kasinoet for å spille med store beløp. Det kan være vanskelig å få slike invitasjoner, og invitasjonene gis vanligvis til spillere som spiller mye Baccarat.