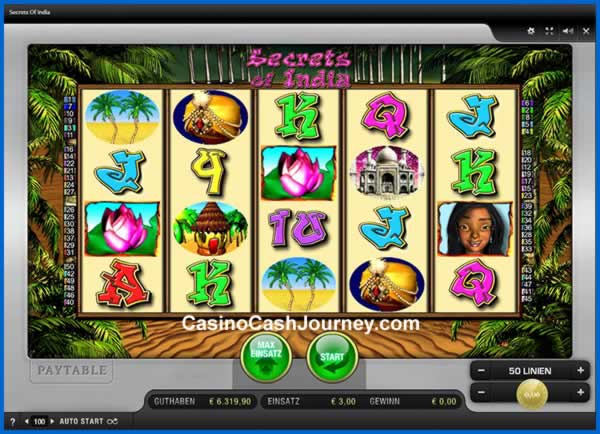 Ønsker man å spille på en enkel og rett frem slot så burde man vurdere å prøve ut Secrets of India som kommer fra selskapet Merkur. Temaet som er satt til spillet ligger vel i navnet, det er nemlig India som er i fokus her. Spillet har til sammen 5 hjul og hele 50 innsatslinjer å spille på. Spillet kan vel bli sammenlignet med det India er kjent for, nemlig å skjule eksotiske mysterier bak det enkle.
Innsatser
Når det kommer til innsatser så er det mye som kan tilpasses av spilleren. Innsatslinjene kan gjøres om men ikke med et helt fritt valg. Man kan velge å spille med 1, 10, 20, 30, 40 eller 50 innsatslinjer som er aktive. Når det kommer til gevinster så stopper ikke muligheten når hjulene stanser. Her vil det dukke opp noen knapper som gjør at man kan velge å ta gevinsten som den er eller å gamble på to ulike måter, for å da øke gevinsten.
Symboler
Symbolene i Secrets of India er delt opp. Du vil se de vanlige symbolene fra en kortstokk, men også symboler som Taj Mahal, palmetrær, turban og ulike små hytter. Symbolet av lotusblomsten er den som aktiverer gratis rundene.