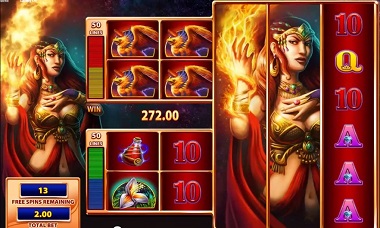 Spillet er laget av det store spillselskapet WMS Gaming Software som kommer med spill som blir mer og mer populære heri Norden. Noe som man med en gang skjønner er spesielt med Fire Queen, er at designet er helt annerledes enn det man kanskje er vant med fra andre spill.
Grafikk, tema og oppsett
Spillet ser veldig bra ut! Spillet har fem hjul, men det slutter også likhetene. Her har spillet tre hjul med seks rader – og to andre små hjul med to rader. I Fire Queen finner du hele 100 gevinstlinjer. Ikke nok med det, men spillet er også mobilvennlig, noe som gjør at du kan nyte spillet både hjemme og når du er på farten. Spillet handler om «Fire Queen», som er dronningen over ilden og som kan temme den. Temaet fungerer ganske bra, og ikonene er helt ok. Symbolene har et flammetema, sammen med alt annet i spillet. Alt i alt så ser det helt ok ut.
Bonusfunksjoner, symboler og innsatsalternativer
Når det kommer til tilleggsfunksjoner i spillet så finnes det masse forskjellig. Her finner vi blant annet et helt unikt design på hjulene. I Fire Queen er det i realiteten tre forskjellige sett med hjul. Et stort som har tre ganger seks symboler og to små som har to ganger to. De to små settene med hjul jobber uavhengig av hverandre med det store settet for å lage fllere gevinstlinjer. I alt kan man finne hele 100 linjer i spillet. Selv om det er mange linjer i spillet har utvikleren her klart å gjøre det fullt mulig å spille for litt mindre penger. Man kan velge med å spille for så lite som 0.5 mynter per spinn og helt opp til 100 per spinn. Symbolene i spillet er vanlig kortsymboler og spesialsymbolene som er «fire queen» eller ilddronningen, føniks, en brennende hest, en blomst og en smykkesten.
Wildsymbolet i spillet er dronningen selv, den fungerer som et helt vanlig wildsymbol. Det vil si at symbolet erstatter alle andre symboler i spillet. I tillegg har wildsymbolet en annen funksjon som gjør at hvis man får et wildsymbol i et av de små hjulsettene vil det også dukke opp på det andre hjulet. Alle symboler kommer ofte i puljer nedover hjulene. Scattersymbolet i spillet dukker kun opp på de tre siste hjulene. Klarer man å få minst 3 av disse et eller annet sted på hjulene så er man garantert fem gratisspinn. Hvis man derimot klarer å få fire like på de små hjulene i tillegg til de små scatter symbolene på de store hjulene vil man stikke av med 100x innsatsen og 20 ekstra spinn.
Alt i alt
Alt i alt er Fire Queen et veldig bra spill. At det er mulig å spille det på mobile enheter er også et stort pluss. Innsatsene kan være utrolig høye, men også minimale. Dette gjør nok at Fire Queen trekker både de som spiller for høye summer og de som liker å bruke pengene sine på flest mulig spinn. Grafikk og lyd er helt ok. Utvikleren kunne gjerne gjort litt ekstra med lyden og symbolene.