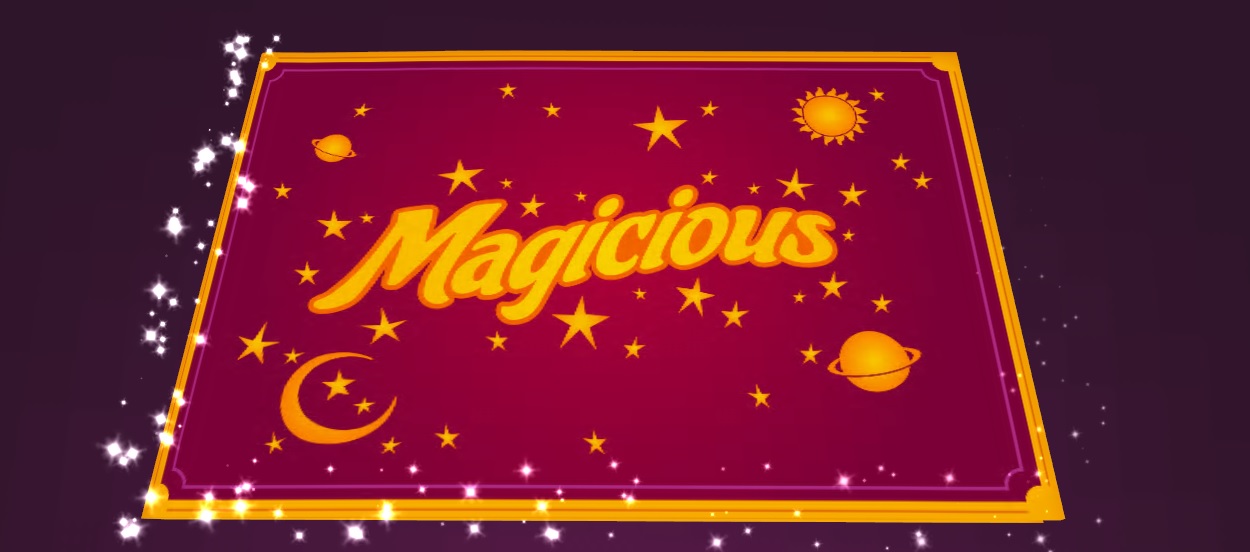 Thunderkick er det spillutviklerselskapet som står bak videoslotspillet Magicious. Thunderkick jobber med å skape et kjent navn for seg selv innen spillutvikling og med slotspillet Magicious så kan det se ut til at de får det til. Det er et morsomt og originalt tema, som har satt en vri på slotspill med magi som tema.
Spillets tema
Som nevnt så er spillets tema magi. Men ikke på den måten at det er en trollmann som er i fokus i spillet. I Magicious så finner man faktisk to hovedkarakterer, nemlig Illucious og Magicia. Til sammen så skaper de to navnet Magicious. De har et trylleshow sammen hvor de viser publikum det de kan av magi og ulike tryllekunster. Det er et morsomt og litt lekent tema og er noe som man ikke har sett tidligere.
Grafikk i spillet Grafikken
i spillet er utrolig godt utformet og det kommer tydelig frem hva spillets tema er.
Når man ser på spilleskjermen så ser man at bakgrunnen er utformet til å ligne på en scene. Trolig så er det scenen som Magicious opptrer på og det er her magien skjer. Man ser også at Illucious og Magicia står på hver sin side av hjulene i spillet. De er alltid klare for å spre litt av sine tryllekunster over hjulene.
Symbolene i spillet er utformet på en veldig enkel og god måte. Det er ikke en mengde bilder som er brukt som symboler, men heller enkle elementer. Symbolene er blant annet i form av to ulike stjerner, noen magiske esker og en rosa sirkel. Til tross for at symbolene er veldig enkle så har de alle en animasjon som vises på skjermen.
Innsatser
Innsatsen i spillet Magicious er veldig enkel å tilpasse, ved at man bruker knappene som man finner nederst på spilleskjermen. Det gjør at spilleren alltid får tilpasset spillet til eget ønske. En ting som man må legge merke til er at innsatslinjene i spillet betaler ut i begge retninger, så selv om man har 10 innsatslinjer, så kan man egentlig regne dem som 20.
Innsatsen i spillet legger man ved at man velger den totale innsatsen man ønsker å ha per runde. Det er ni forskjellige innsatsnivåer som er satt på forhånd, og man kan enkelt velge en av dem. Innsatsen per runde kan ligge på mellom 0,10 euro og opp til 250 euro.
Spesialfunksjoner
I spillet Magicious så finner man egentlig bare en bonusfunksjon. Men til gjengjeld så kan bonusfunksjonen utgjøre ganske stor forskjell.
Det er den rosa kulen som er spillets wildsymbol og det er denne som er en del av bonusfunksjonen. Den dukker nemlig opp som ekspanderende wild på hjul to, tre og fire. Det vil si at når man får et wildsymbol på et av disse tre hjulene så vil wildsymbolet spre seg over hjulet og dekke hele hjulet med wildsymboler. Når det har skjedd så får man tildelt de eventuelle gevinstene, og så vil de resterende hjulene bli snurret en gang til. Dette gir nye sjanser for gevinster.