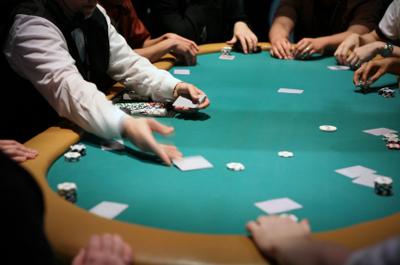 De ulike variantene av poker deles inn i flere grupper. En av gruppene kalles Community Card Poker. Community Card Poker er pokervarianter der spillerne deler felleskort som legges på bordet. Den mest kjente varianten av denne gruppen pokerspill er Texas Hold'em.
Texas Hold'em skiller seg fra vanlig poker ved at spillerne bare har to skjulte kort på hånden. De andre kortene er felleskort. Texas Hold'em spilles mye på nettet, og er også vanlig i turneringer. I WSOP spilles finalebordet for eksempel alltid som No-Limit Texas Hold'em.
Slik spilles Texas Hold'em
Texas Hold'em består av mange budrunder, der felleskortene deles ut etter hvert. Man får altså ikke alle kortene samtidig, og må hele tiden vurdere hvor god hånd man har, og hvor store sjanser man har til å forbedre den. Det er dette som avgjør om man bør se budet, høyne eller trekke seg.
Den første budrunden starter når alle har fått utdelt de to kortene de skal ha på hånden. Det er ikke mulig å bytte kort i Texas Hold'em, så det gjelder å gjøre det beste ut av kortene man får. Hvis kortene er helt håpløse, er det best å trekke seg, selv om ikke alle kortene er utdelt ennå. Erfarne spillere trekker seg fra svært mange hender. Nybegynnere har en tendens til å spille altfor mange hender. Erfarne spillere står heller over en runde, og venter på bedre kort i en senere runde.
Når alle har valgt om de vil se, høyne eller trekke seg, legges de tre første felleskortene på bordet. Ved å kombinere felleskortene med kortene på hånden, skal spillerne lage pokerhender med fem kort. En ny budrunde følger, og på nytt må man vurdere håndens styrke og muligheter til forbedring.
Etter at alle har sett, høynet eller trukket seg, deles det fjerde felleskortet ut. Etter enda en budrunde, deles det femte og siste felleskortet ut. En siste budrunde følger.
Slik avgjøres spillet
Dersom det bare er én spiller igjen etter siste budrunde, er dette selvsagt vinneren. Hvis det er flere spillere igjen, skal spillerne vise hendene sine. Alle de gjenværende spillerne viser hånden sin etter tur. Hvis en spiller allerede har vist en bedre hånd enn du har, trenger du ikke å vise kortene dine. Spilleren som har den beste hånden, vinner potten.
Som regel består spillernes beste hender av en kombinasjon av felleskortene og kortene spilleren har på hånden. Spilleren kan bruke begge kortene på hånden, eller bare ett av dem, kombinert med tre eller fire felleskort. Men av og til består spillerens beste hånd av de fem felleskortene. Noen ganger kan det til og med være flere spillere som bruker felleskortene som beste hånd. Hvis felleskortene blir vinnerhånden, deles potten mellom alle disse spillerne.
Texas Hold'em er et spill der det kan være store pengesummer involvert. Det spilles flere varianter av spillet. Limit spill betyr at både budene og høyningene har en grense. Dette er ganske vanlig på nettet, og ulike bord kan ha ulike innsatsgrenser.
I Pot Limit spill kan man ikke by mer enn pottens samlede verdi. I No Limit spill kan man by så mye man vil, så sant man har sjetonger til det. I Mixed Texas Hold'em spilles annenhver runde som Limit og No Limit.