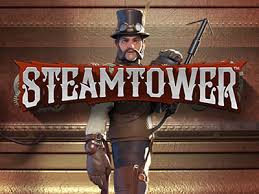 Steam Tower er en ny utgivelse fra spillutviklerselskapet Net Entertainment. Det er et veldig unikt tema som Net Entertainment har valgt å sette inn denne gangen. Det er absolutt noe som slår an på markedet, da mange spillere er ute etter å finne noe nytt.
Steam Tower presenteres med et tradisjonelt oppsett som består av fem hjul og tre rader med symboler. Det er satt inn 15 innsatslinjer, og de er faste. Spilleren har likevel mulighet til å gjøre to justeringer, som er myntverdien og innsatsnivået. Justeringene blir gjort ved at spilleren tar i bruk knappene som er satt nederst på spilleskjermen. Det er også der man finner spinnknappen, autoplayknappen og maksbetknappen. De to sistnevnte er satt inn som hjelpeknapper, for at spilleren skal få en enda bedre spilleopplevelse.
Når hjulene er i gang får man se mange flotte symboler som spinner rundt. Blant symbolene finner man de som er i form av bilder, og de som er i form av bokstaver og tall. De ulike symbolene har alle forskjellige verdier, og de betales ut når det blir en vinnende kombinasjon på hjulene. Det er også noen av symbolene som er lagt inn med spesielle funksjoner, slik at spilleren får enda flere fordeler.