I Tornado Farm Escape møter man noen triste gårdsdyr som er lei av å slite og streve for den sure bonden. Da de oppdager at det kommer en tornado, pakker de sakene sine og stikker av, og når spillet begynner, svever de rundt opp i den virvlende luften.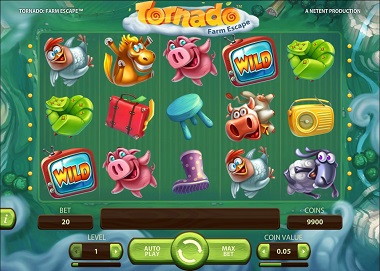 Det beste med dette spillet, er den herlige tornadobonusen. Den blir utløst av to skyer med to ulike farger på vindpilene. Når dette skjer, blir det plukket ut to symboler man skal samle på under gratisspinnene. Det er mange morsomme symboler i spillet, fra glade dyr til støvler, radioer, møbler, TV-er og kofferter. Alt svever rundt i luften. Under tornadobonusen blir de utvalgte symbolene samlet inn av tornadoen, og når innslaget er over, legges verdien av symbolene sammen før man får utbetalt bonusen.
Det virker som bonusinnslaget blir utløst ganske ofte, og det gjør det ekstra spennende å spille. Countrymusikken i grunnspillet byttes ut med vill banjoklimpring under tornadobonusen, og musikken er også viktig for å skape den rette stemningen i dette spillet. Tornado Farm Escape kommer fra det svenske spillselskapet Net Entertainment, og ble lansert i januar 2015. Dette er virkelig et herlig spill som er vel verdt å prøve.