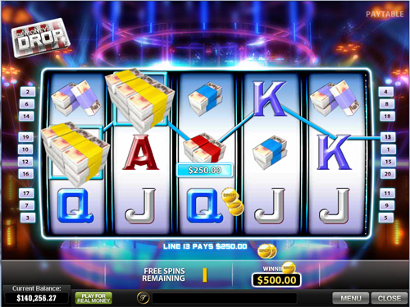 Spilleautomaten The Money Drop er basert på TV-programmet Pengene på bordet. I denne TV-konkurransen får deltakerne et spørsmål og tre eller fire svaralternativer i hver runde. Hvert svaralternativ vises på en luke på bordet foran deltakerne. Deltakerne starter med to millioner kroner, og skal legge pengene på det svaret de tror er riktig. De kan plassere alle pengene på én luke, eller fordele pengene på flere svar dersom de er usikre. Når pengene er plassert, åpnes lukene som viser feil svar, og alle pengene som ligger på disse lukene forsvinner. Bare pengene som ligger på det korrekte svaret blir værende på bordet.
Et spill om penger
The Money Drop er det engelske navnet på konkurransen, og denne spilleautomaten fra Playtech har hentet tema og inspirasjon fra TV-konkurransen. Spilleautomaten har fem hjul og 20 gevinstlinjer. Spillerne kan velge myntverdi fra 0,01 til 50 euro, og satse maksimalt 1 mynt per linje.
Her spiller man virkelig om penger, med pengebunker blant symbolene på hjulene og to spennende bonusinnslag. Kortsymbolene fra knekt til ess dukker også opp på hjulene. Seddelbunkene har bånd i ulike farger, og selve stablene er også i ulike størrelser. Den største stabelen (den med gult bånd) er mest verdt. Fem like av disse gir 1000 mynter. Stabelen med gule bånd gir også utbetaling for bare to like. Seddelstabelen med røde bånd er verdt 500 mynter for fem like, den med grå bånd gir 250 mynter for fem like, og den minste seddelstabelen, med blå bånd, gir 200 mynter for fem like. Kortsymbolene gir lavere gevinster. Essene og kongene er mest verdifulle.
Wildsymboler
The Money Drop spilleautomat har to wildsymboler, ett gullfarget og et rødt. Det gullfargede wildsymbolet dukker bare opp på hjul tre. Dersom det dukker opp, endrer det fire andre tilfeldige symboler til wilds. Disse symbolene blir røde wilds, og man har til sammen fem wilds som kan hjelpe til å fullføre vinnerrekker eller øke vinnerrekkenes verdi.
Bonusinnslag
De to bonusene heter The Money Drop Bonus og Security Pass Bonus. De samme navnene star på symbolene når de dukker opp, så det er lett å skille dem fra hverandre. For å komme til Security Pass Bonus, trenger man tre Security Pass symboler på de tre midterste hjulene. Symbolene kan dukke opp hvor som helst på hjulene, de trenger ikke å være på rad. Tre slike symboler gir adgang til det første bonusspillet. I dette spillet faller det penger ned fra oven, og man skal prøve å fange dem. Hvor mange penger man fanger, avgjør hvor mange gratisspinn man får, og hvilken multiplikator disse spilles med. Når bonusspillet er ferdig, begynner gratisspinnene. De kan gjenutløses mens man spiller med gratisspinn, slik at man kan vinne enda flere.
The Money Drop Bonus minner om TV-konkurransen. Man skal plassere pengene på ulike luker. Alle lukene åpner seg, bortsett fra én. Dersom man har lagt penger på luken som holder seg lukket, vinner man disse pengene. Man kan fortsette å plassere penger på lukene så lenge man har penger igjen å spille med. Til sammen kan man spille åtte runder. De tre siste rundene har bare tre luker man kan plassere pengene på.