Eksklusiv maskin uten eksklusive funksjoner
De aller færreste nettkasinoer der ute produserer egne spill – det er jo så mye lettere å skape et samarbeid med en av de kjente spillutviklerne der ute og spare seg bryet med å lage egne spilleautomater! Paf Casino har derimot valgt å gjøre ting selv, og man kan diskutere endeløst om det lønner seg eller ikke. Paf samarbeider selvsagt også med spillutviklerne, men enkelte spill har de altså lagd selv – Nordic Vikings er et av disse spillene. Nordic Vikings er dermed en eksklusiv spilleautomat som kun finnes på Paf Casino, men er den virkelig eksklusiv når det kommer til spillopplevelsen? Nei – det blir det enkle svaret. Nordic Vikings er en gammeldags, primitiv spilleautomat som ikke ligner på noen av de moderne 3D-maskinene vi har blitt så vant til. Ved første øyekast ser det ut til at Nordic Vikings er utviklet av noen som sitter fast på 90-tallet, når folk var ekstremt glade for alle spill, uansett hvor dårlig grafikk de hadde. Greit nok at linjene er ganske glatte – grafikken er fortsatt middelmådig og hele automaten ser ut som noe tatt ut av en barnebok.
Hårek i fokus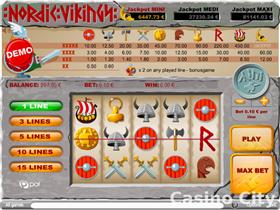 Alle symbolene er tatt fra vikingtiden – her finner spilleren vikingskip, vikinghjelmer, kryssede sverd, skjold, runer, økser, gullmynter og horn. Øverst til venstre på spilleskjermen ser man en liten tjukkas av en viking som overvåker listen over diverse kombinasjoner. En ting skal Paf Casino ha – de har gjort Nordic Vikings veldig brukervennlig og lett, med alle innstillinger og opplysninger godt synlige helt fra start. Det er enkelt å velge hvor mange gevinstlinjer man vil spille på og hvilken innsats man ønsker å ha. Nordic Vikings er derfor verdt å prøve ut om man har en konto hos Paf Casino, men å skape en konto bare for å ta noen spinn – neppe.
Progressiv jackpot er svaret
Så hva er det som er innbydende med Nordic Vikings? Hvorfor skal spillere i det hele tatt spinne hjulene på en såpass gammeldags spilleautomat uten kule animasjoner og heftige funksjoner? Svaret er Progressiv Jackpot. Nordic Vikings har en veldig fin progressiv jackpot i tre ulike former som vil glede lykkejegere verden rundt. De fleste spilleautomater med progressiv jackpot spytter kun ut penger til de spillerne som satser maksimalt, men Nordic Vikings har hele tre ulike progressive jackpoter som deles ut til spillere på ulike innsatsnivåer. Med et gjennomsnitt av to hundre tusen kroner på de to mindre innsatsene og opp til en halv million kroner på den høyeste innsatsen gjør Nordic Vikings til en spilleautomat med futt i.

Utbetalinger som plaster på såret
Nordic Vikings gir ut små og store gevinster med nærmest hvert spinn, men det er ikke alltid man tjener inn nok til å dekke innsatsen. Derfor har Paf Casino inkludert et lite bonusspill som tar oss med til vikingenes verden og gir spillerne muligheten til å stikke av med gode premier som veier opp de mindre utbetalingene maskinen gir ut ellers. Alt i alt er ikke dette den aller beste spilleautomaten der ute, men Paf Casino fortjenes ros for å ha skapt en helt egen maskin uten å samarbeide med profesjonelle spillutviklere.