Når Fotball-VM 2014 var i gang, fikk vi se akkurat hvor mye fotball betyr for brasilianere. Det er som en religion, det er en livsstil. Brasilianerene ser ikke på fotball som bare sin nasjonalsport – det er en del av deres kultur og historie!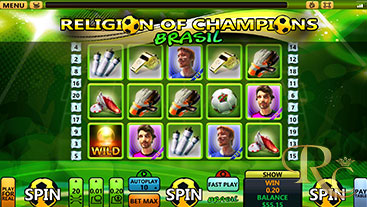 Religion og Champions Brasil er en spilleautomat fra Top Game som har tatt for seg akkurat denne delen av Brasils nasjonale stolthet. Maskinen har tjue gevinstlinjer og fem hjul, samt alle de velkjente funksjonene vi forventer av en spilleautomat. Her kan du satse alt fra femti øre til seks hundre kroner per spinn, altså vil Religion of Champions Brasil bli tatt godt imot av både storspillere og hobbyentusiaster. Spilleautomaten har typiske fotballfarger, altså grønt og gult, og symbolene består av fotballverdenens mest kjente tilbehør og detaljer – keeperhansker, vannflasker, kjegler, fløyter og selvsagt fotballer og fotballspillere.
Det er kanskje ikke den mest moderne spilleautomaten der ute, men grafikken er god og detaljert. Religion of Champions Brasil har en høy utbetalingsrate og er en enkel spilleautomat å bli kjent med. Etter noen få spinn vil du vite nøyaktig hva du bør håpe på. Gratisspinn, wildsymboler og scattere spinner forbi – og med autospill-funksjonen kan du til og med lene deg tilbake og forestille deg et liv som fotballspiller mens du håper på den store gevinsten.